Who would enter the desert after dark? As it turns out, lots of people did recently at White Tank Mountain Regional Park in Waddell, Arizona, northwest of Phoenix.
White Tank is the largest of the Maricopa County Parks with about 30,000 acres in rugged desert terrain. We have brought our snakes and skulls here several times to present programs and to man trailhead information tables to dispense reptile and skull information, always in the daytime.
Until now.
Luminarias
The Annual Luminaria Walk event at White Tank in early December began after dark. Over 350 people attended. A high school choir, hot chocolate and cookies, games, and a short self-guided hike among luminarias drew in families with children ranging from two years old to near adulthood. And we were invited to bring our snakes and skulls as an added attraction.
We stopped at the entrance gate to check in and explain that we were there to show snakes.  "Snakes?" the person manning the gate responded. "Not a good night to look for snakes!"
"No, it's not," Chuck agreed. "But we brought our own snakes to interact with visitors at the Luminaria Walk."
Satisfied, the attendant motioned us through.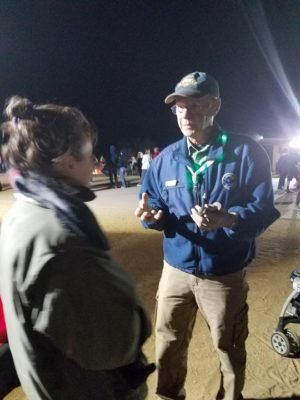 Setting Up
Even though we arrived early, other volunteers already were positioned to park cars, each person wearing a flashing band draping down from their necks to be easily seen in the dark. A school bus loaded with high school kids ready to perform carols was parked nearby. A table covered with a table cloth and two neck bands laying on it was already in place for our skulls. As I began setting up, one of the high school girls approached. "Need help setting up?" she asked, so friendly and willing that I was taken aback.
"I think we're okay," I said. But when I slipped the neck band on, it was obvious I didn't know how to make it flash. The high school girl reached over and pushed a tiny button on the back of the little battery pack. "When you see a black dot on white like that," she said, "you just push it."  I had to smile.
Visitors Arrive
Families began showing up, as well as elderly couples and even single adults out for a fun evening. Adults seemed fascinated by the snakes and skulls, and the kids were surprisingly attentive and interested. They asked lots of questions and even shared some of their own experiences.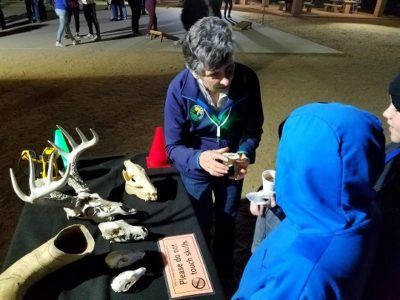 Several little children in their fathers' arms, however, recoiled a bit when I extended the mountain lion skull to reveal sharp teeth. After a little coaxing, most reached a finger tentatively forward to touch the large canines and razor-sharp posterior molars and premolars.
I was surprised by one two-year-old girl in her father's arms. When I presented the mountain lion skull and opened its jaws toward her, she reached out without hesitation and put her whole hand inside the cougar's mouth. "Wow!" I exclaimed to her father. "She's brave!"
The father laughed. "She's fearless," he said. "And that can be a problem sometimes!"
One visitor seemed fairly knowledgeable about the skulls, and I asked him if he was a hunter because often hunters know a lot about animals. "No," he replied. "I could never kill an animal."  He thought for a moment before adding with a laugh, "Sometimes I feel like I could shoot my kids, but never an animal!"
Safe Evening
Entering the desert after dark can be an intimidating experience and possibly a dangerous excursion. But a night of planned fun and camaraderie make it safe and inviting. We're already looking forward to this fun event again next season!