"You will have an interpreter for the hard-of-hearing," read the email sent by the White Tank Library where we were to present our reptile program in a couple weeks. Strange, Chuck and I thought, we've never had that before.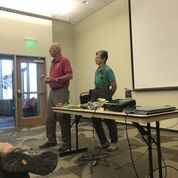 We pretty much forgot about the note until the day of the presentation and we were approached by a man who introduced himself as the interpreter for the program. He asked where he should sit. "I don't know," I said. "Sit somewhere where it won't be distracting."
Looking Back
"I've been doing this for 22 years," he said. "I've never had problems. I was notified of the need for this program two months ago." He pulled up a chair to the side of our presentation and immediately started signing to a young girl sitting in the front row, even though the program was still 10 minutes from starting.
When the girl began signing back, I noticed she was wearing large hearing aids. The encounter took me back more than 65 years when I was a Girl Scout spending the night at a retreat with girls from other troops. All of us laughed and chattered as the retreat began, except two girls standing by a wall, each blinking back tears.
"What's with them?" someone asked the retreat leader.
"They're deaf," she said. "They likely feel out of place."
Feeling sorry for them, we all approached them to offer comfort. But since we couldn't communicate, we didn't know what to do. One of them began signing to us. We'd never seen sign language, so all we could do was shrug.
Becoming a Unit
Then someone had an idea. "Why not have them teach us some of their signs?" And thus began our introduction to the deaf alphabet, which was about as far as we got that evening with their language. But it felt good learning something new, and the deaf girls smiled with the confidence produced by teaching others. We became a unit as we practiced and laughed at our errors and rejoiced in our triumphs.
Now, during our reptile program, signing continued, but when I brought out the first live snake, the little girl turned from the interpreter, eyes wide, curiosity piqued. As we continued the program, another interpreter stepped up to sign to a few hard-of-hearing adults seated farther back in the room. Until then, we hadn't realized that there were several attendees that needed sign language other than the young girl in front.
Snake Feeding
When the program ended, we escorted everyone into the Nature Center where the Snake Feeding program began as Ranger Justin fed from behind the scenes and Chuck narrated in the visitor area. Wanting to show off my alphabet knowledge of sign language, I signed "hi" to the girl who had sat in the front row during our program. When she looked at me quizzically, I turned to her mother who showed me a small error I had made and then allowed me to try again. "But just the fact that you attempt to communicate with her," she said, "is very special!"
Once feeding was done, I brought out our snakes for everyone to touch if they wanted, and that's when I encountered some of the hard-of-hearing adults that had attended our program. Feeling my confidence rising as I chatted with some of them, I once again showed off my sign language, realizing that my fingers definitely were not as agile as they were when I was twelve! Not only that, but it seemed that I had forgotten some of the correct signage. Quickly and very kindly, they re-arranged my fingers on several of the letters to perform the proper position. Even though we all laughed at my poor attempts, the others were encouraging and pleased at my efforts. I began to feel the same bonding that I'd felt years ago as a Girl Scout.
Universal Appeal
Chuck and I came to the Park to educate others. In return, I came away with memories of the past and a better understanding of the universal appeal of wildlife. In that respect, we all spoke the same language!