Behind the reptile exhibit at White Tank Mountain Regional Park is a "kitchen" of sorts that contains lettuce, red peppers, mealworms, insects, and other items to feed the rats and mice. All these rodents are, in turn, scheduled to be fed to the reptiles on exhibit.
All, that is, except one.
Pardoned
Simon is a large rat that Ranger Justin offered to Shakespeare, the Western Diamondback Rattlesnake, several weeks ago. Since Shakespeare had been off his feed for some time, Justin hoped that a live rat would entice the snake to eat. But as Simon explored the cage, Shakespeare merely ignored the rat, even when Simon climbed on top of the snake's large head and wandered about. At that point, Justin removed Simon from the snake's cage and then discovered that this rodent was actually friendly.
So, Ranger Justin decided against feeding Simon to another snake and instead offered him a new task.
[twocol_one]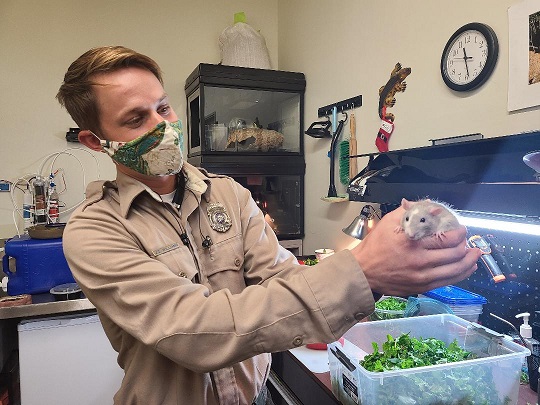 [/twocol_one] [twocol_one_last]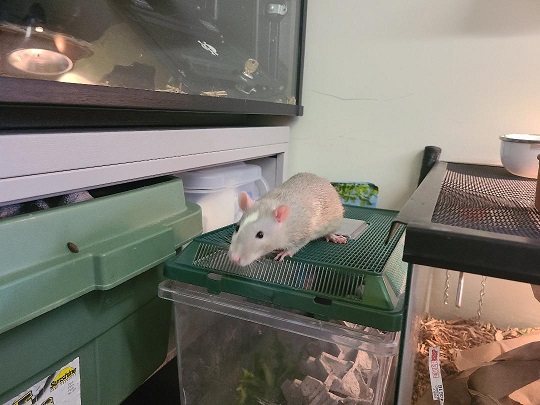 [/twocol_one_last]
No More Waste
A certain amount of waste is expected when preparing food for the rodents. Red pepper stalks, lettuce scraps, carrot tops, and salad greens can end up in a garbage can or bits of it fed to the insects and mealworms that are then fed to the other rodents. Now, however, Simon, in his new position, saves waste by eating these leftovers and consuming excess insects and mealworms as his "treats." But his favorite food, according to Justin, is dandelion stems.
[twocol_one]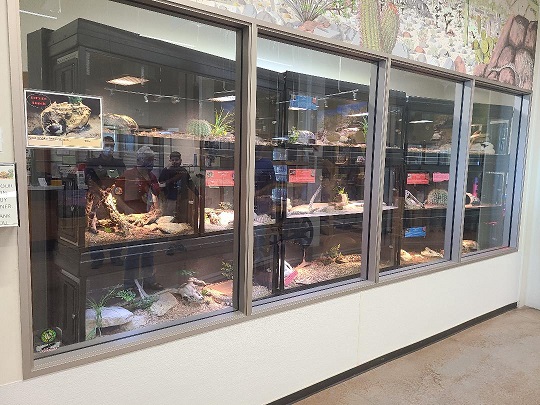 [/twocol_one] [twocol_one_last]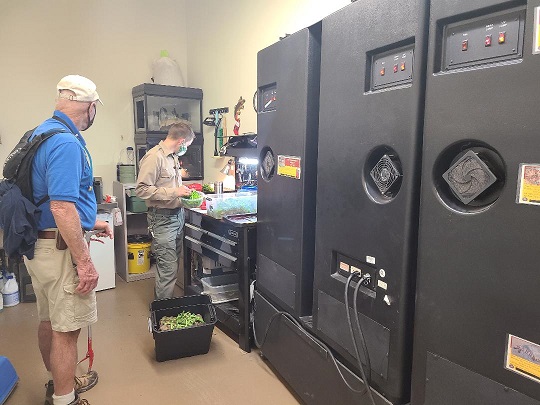 [/twocol_one_last]
Run of the House
Because Simon is friendly and does a good job, Justin allows him the run of the workstation room behind the reptile exhibit during the day when Justin is in the building. This room is also where Simon's own cage and hideout (a green storage box) are located. "He goes back into his cage at night and when I'm not here," says Justin. "He's also trained himself to use his cage as his bathroom."
But Simon is not a goody-two-shoes. "His hideout," says Justin, "is where he drags all his things – towels, gloves, anything he finds in the workstation that he wants." Recently, a volunteer brought in bags of sunflower seeds and dried cranberries to create a trail mix to feed the other rodents. "Simon took all the zip ties from those bags and dragged them to his hideout," says Justin. "Anything I leave on the desk in the back is fair game for him!"
On the whole, however, Simon has proven himself worthy as a loyal garbage collector, recycler, and trusted entertainment. And, as Justin says, "He's super friendly!"