"He's never been on the ground before, has he?" I asked Chuck as he lay our 26-year-old California Kingsnake, Spike, on the floor of our patio.
"No, he hasn't," said Chuck. "I thought he might like a little vitamin D." For an animal that might not have passed his sixth birthday in the wild, it was a testament to Chuck's good care that Spike lived as long as he did, never exposed to contaminated surfaces and offered only clean food raised specifically for reptiles.
Confused?
We chuckled as Spike began slithering forward, then abruptly reversed direction, then wound around again. "He doesn't know where he wants to go!" I said, "or he's forgotten how to coil."
Chuck picked Spike up and straightened him out on a rougher section of the patio to give him traction to move forward. That's when we noticed that the bumps on his midsection had multiplied. Then we watched as he struggled to drag his body in one direction and then the other.  "I think his midsection is paralyzed," I said. And then we both knew what we would have to do.
[twocol_one]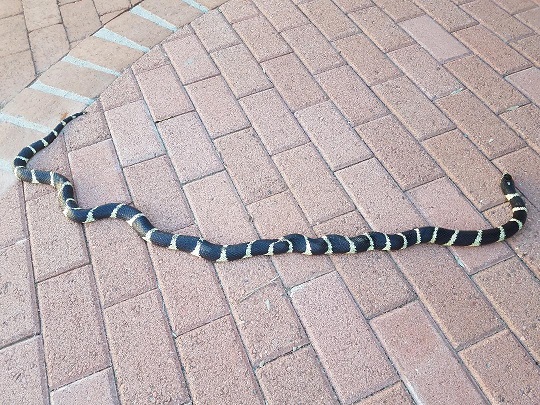 [/twocol_one] [twocol_one_last]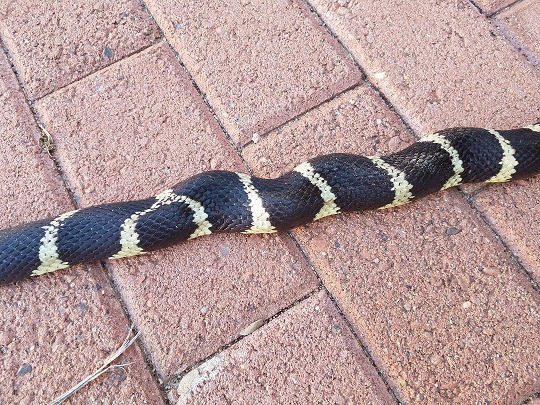 [/twocol_one_last]
History
Shortly after he was hatched, Spike was given to us by a zookeeper. He was the first in our education collection of snakes that we used to present programs in schools, RV parks, libraries, and state parks around the country. He was a favorite with many, especially the weatherman on a news channel in Yuma, Arizona. He held Spike as he delivered the weather, telling viewers, "Spike wouldn't like it in Denver today. It's cold! But here in Yuma, it's a warm 75 degrees, and Spike likes that a lot!"
Countless school children ran fingers across Spike's back to feel his scaly skin. "He's soft! He's beautiful!" they whispered. He was an excellent education animal as we worked with him to teach others respect for this misunderstood species. And, often, repeat visitors to national wildlife refuges where we volunteered, as well as friends and family members of ours, inquired about Spike, eager to see him once again and perhaps hold him for a photo opportunity. Many adults who couldn't bear the thought of a snake ended up touching Spike and discovering his soothing effects. He became as popular as a celebrity.
[twocol_one]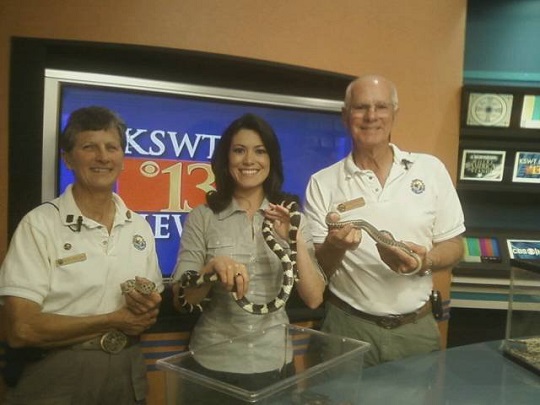 [/twocol_one] [twocol_one_last]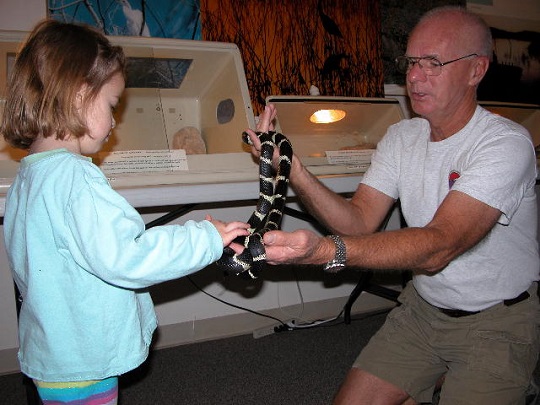 [/twocol_one_last]
Aging
As he grew older, however, he lost some muscle tone, and several years ago we decided to retire him from public life and let him live out his remaining years free from public contact. He ate.  He shed. He appeared to continue to thrive.
Then came the day on the patio when we witnessed his exertion striving to move. "It's time," we agreed.
Chuck had researched methods to euthanize a snake. "Place it in a freezer," one source recommended, but we later learned this was torture to the animal. "Smash its head," another source stated, but this was not something we could do.
"We owe Spike a dignified end to life," I said. "Let's find a veterinarian who cares for reptiles."
At the Hospital
Two days later, with heavy hearts, we drove 45 minutes to Dove Valley Animal Hospital in Cave Creek, Arizona, recommended to us by Ranger Justin at White Tank Mountain Regional Park. Hospital staff could not have been more sympathetic and helpful. Dr. Kiedrowski sedated Spike after diagnosing his bumps as osteomyelitis, and Chuck held Spike as he succumbed to the anesthesia. Meanwhile, the doctor's assistant, Mandy, comforted us and explained the procedures as they performed them.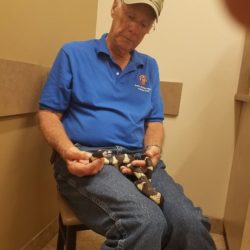 At the end, Mandy cradled Spike in her hands and took him away to create a "tail mold" as a remembrance for us to keep. She wrapped Spike in a drape labeled with his name so we could bring him home.
We plan to locate an appropriate desert spot to bury this wonderful education animal as a tribute to the years of hard work he devoted as an ambassador to his species. For an animal that we shared a third of our lives with, it's the least we can do.