"Snakes will be coming out soon," we were told by a long-time employee of Buenos Aires National Wildlife Refuge. "There'll be lots of them!"
Not many people relish the idea of snakes emerging and slithering in all directions. We may be some of the few. So when we heard that we'll be seeing them in great numbers, we anticipated their arrival.
First One
The first one left signs of his presence with tracks leading from a sheltered culvert out onto the dirt road a short distance, then turning back into the culvert. That evening, on one of our walks, we spotted the 3-foot diamondback lying on the other side of the road, absorbing the warmth of the dirt and the waning sunlight, ribs flattened for maximum advantage.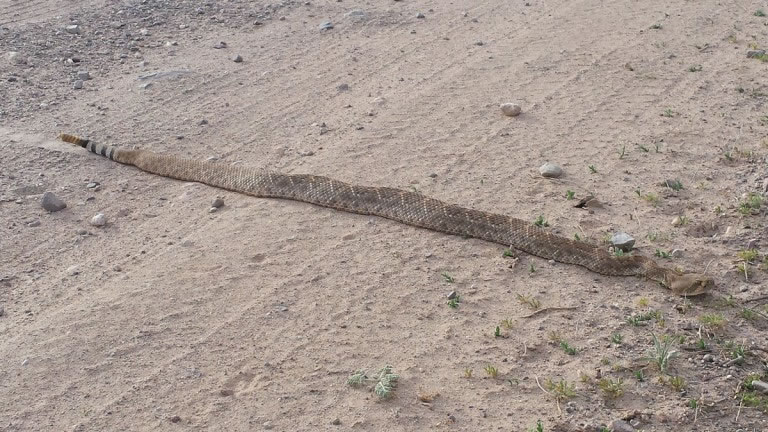 Chuck now carries his snake tongs on our walks since temperatures are inviting the reptiles into action. As he slid the tongs around the snake to lift it from the road surface, it dangled easily for a few seconds. "He's really mellow," Chuck said as he moved the serpent and laid it down. But then the snake finally awoke from its nap as it coiled on the road surface and lunged toward Chuck.
"It looks like he's ready for war!" Chuck said. "Ready to strike!" But then Chuck realized the culvert from which the snake emerged was behind him. "All he wants is to go hide." Chuck stepped aside, and the snake scurried with lunging loops toward his refuge.
We've often heard people tell us that the "snake was attacking me!" And, yes, it did appear that this rattlesnake was on the defensive. It had been sleeping on the road and at first touch seemed quite docile. But once it awoke, the snake prepared to defend itself, and, more importantly, to escape.
Escape
Escape is the first thing most snakes are interested in when confronted by a potential threat. And if their home is behind you, they will head in that direction. "I've had rattlesnakes go right between my feet," says Chuck. "They just happen to be going that way."
The best action to take around a rattlesnake, according to Chuck, is to stop and stand still. "They focus on movement," he says. "They'll smell you, but they'll have a hard time seeing you."
We're looking forward to seeing more snakes as they emerge from their dens. But we always use caution by using a snake hook or tongs to move them off the road. "That way," says Chuck, "we don't get hurt, and the snake doesn't get hurt."