"How do you feel about gardening?" The question hung in the air unanswered for several seconds as we pondered.
After remaining housebound for several weeks to conform to government mandates that addressed the Covid-19 pandemic, we felt the need to get back to "work." We drove to White Tank Mountain Regional Park to chat with Ranger Justin about possible volunteer opportunities even though the Nature Center and all programs had been shut down, their return dates unknown. We were ready to be productive again!
The snake feeding program that we helped with by interacting with visitors was suspended during this period, but Justin allowed us to assist with snake feeding behind the scenes. That was a good start! Then Justin gave us a demonstration of how to use the app "iNaturalist" so we could document flora and fauna we observed on our forays along the Park trails. We were starting to feel useful!
Naturalist Work
"Let us know if you think of anything else we can do," we told Justin as we headed for the exit. "It's good to get back into naturalist work!"
As we turned and opened the door to leave, the question hit us. Gardening? We're naturalists. We present snake programs. We demonstrate our skull collection. We assist with Moonlight hikes and Scorpion hunts. We interact with visitors to educate them about ecology and conservation.
But since the pandemic had shut down interactive gatherings, volunteer opportunities were limited. And we definitely wanted to do something. "What do you have in mind?" we finally asked Justin after the long silence.
Snakes in the Brittlebush
He accompanied us outside to show us the tangle of brittlebush that had overtaken the butterfly garden. Yellow flowers that jutted from tops of the bushes were now brown and dried. "We need to have these bushes cut way back," he said, pointing out cholla cactus that we should avoid amidst the jumble.  "And watch out for the coachwhip that lives in there."
A snake? Now Justin captured our interest, and we recalled other volunteers mentioning a western diamondback that inhabited the area, as well. We hadn't seen a snake in the wild yet this season. This could be our chance. "We could cut back some of these bushes," we told Justin. "We'll be out early Sunday morning."
Getting to Work
After piling clippers, loppers, rakes, and gloves into the car Sunday morning, we headed for White Tank once again. We were surprised by the numbers of visitors already at the park for hikes and bike rides at 7:00 a.m. We had heard that early morning was the time to be active in the desert, and with temperatures topping 100 degrees this past week, savvy locals wasted no time.
[twocol_one]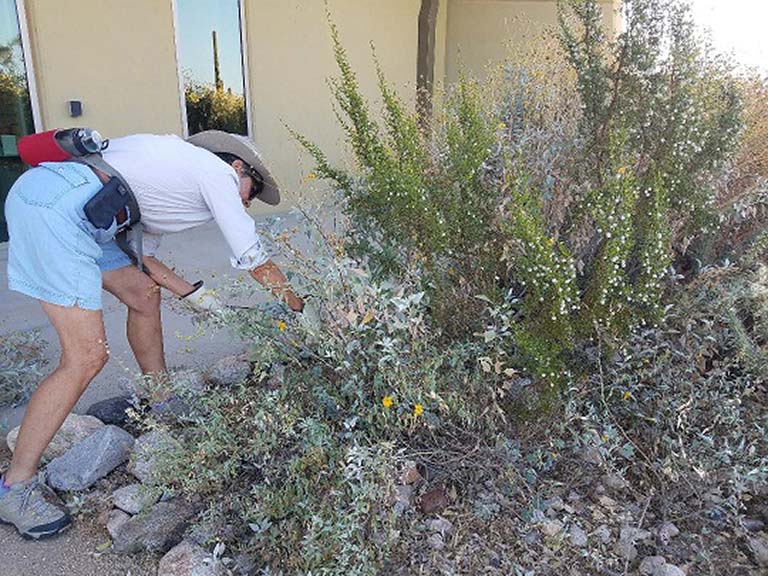 [/twocol_one] [twocol_one_last]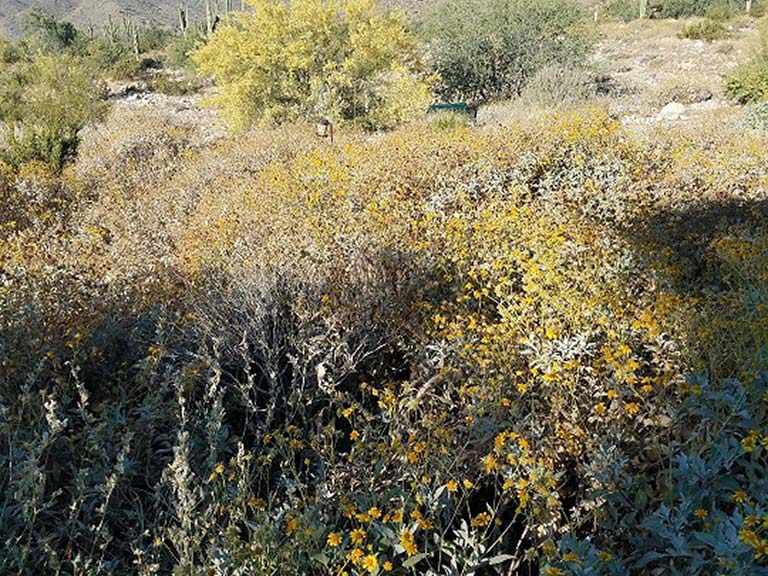 [/twocol_one_last]
As we began work, visitors greeted us as they passed by. After two hours of whacking away at the bushes and stuffing their remains into huge black bags, we agreed that we were happy to be active at the Park once again. The feeling of accomplishment was worth the dust we inhaled, the sweat we expended, and the mildly aching muscles we acquired.
[twocol_one]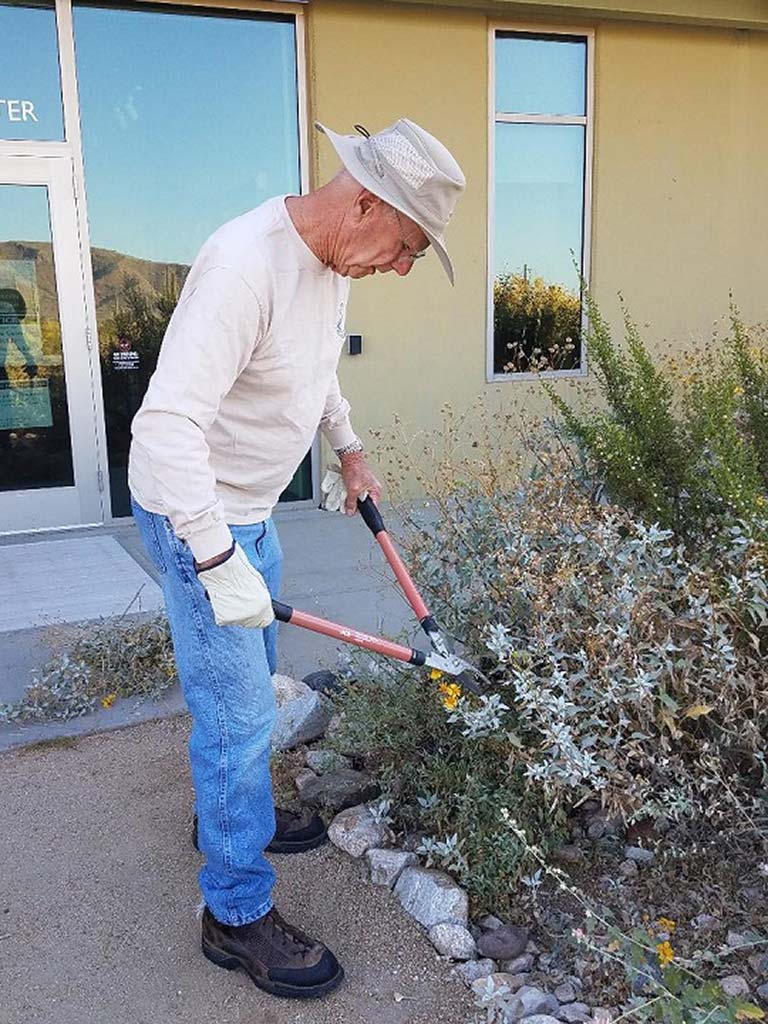 [/twocol_one] [twocol_one_last]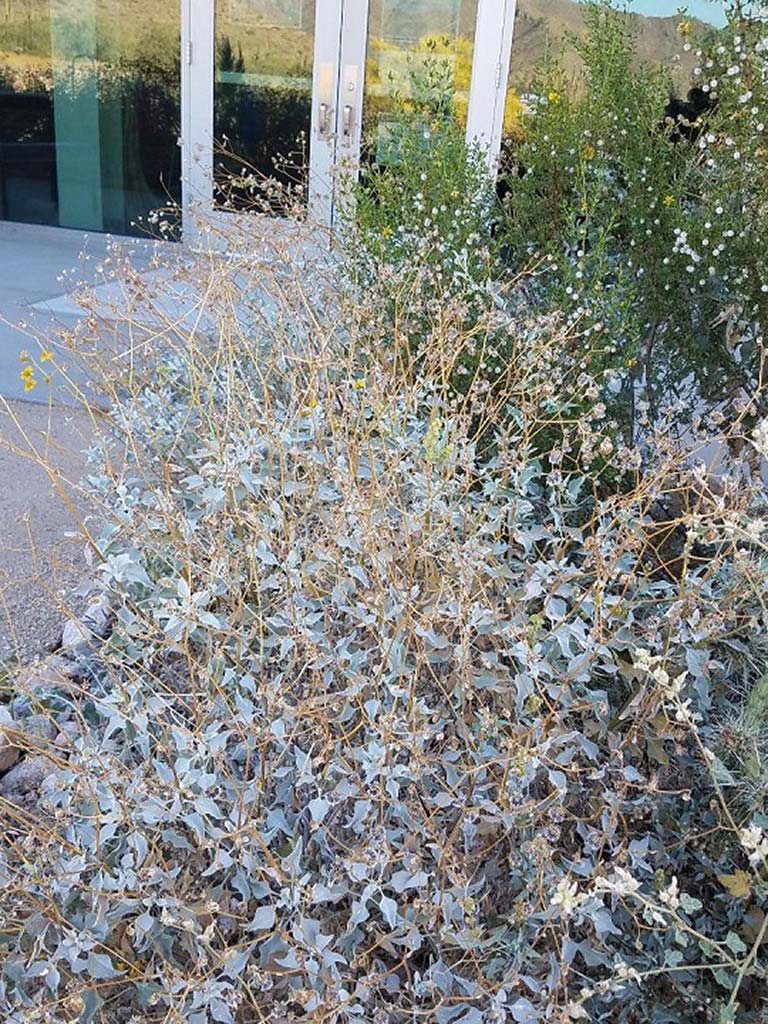 [/twocol_one_last]
Admiring our Work
We stood back to admire the garden devoid of its jungle. A creosote bush gleamed its shiny, jade-colored leaves, the cholla emerged from hiding, and desert globemallow showed off its pastel pink blooms. A whiptail lizard searched the newly exposed ground, possibly wondering what happened; but even though no snakes appeared, we knew we had made the right choice by thinning out this garden. We agreed to return in a couple days to continue this important work on another patch of ground.
So, how do we feel about gardening?  Pretty darned good!
[twocol_one]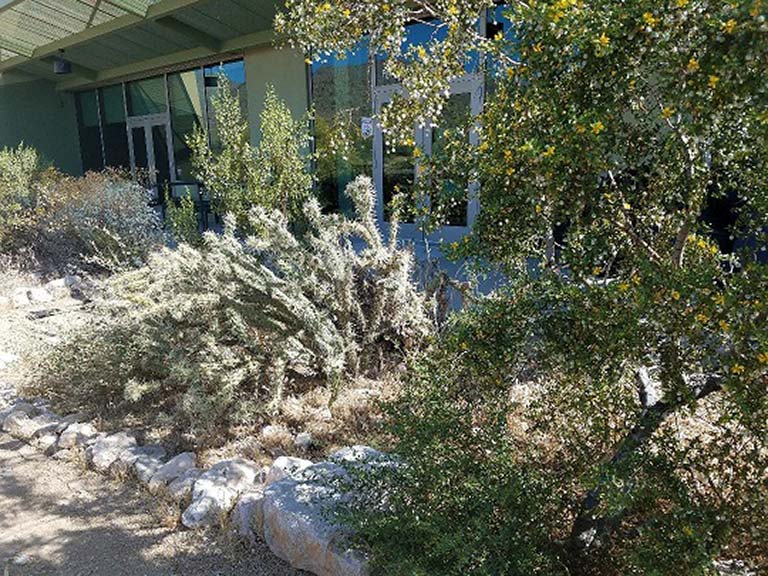 [/twocol_one] [twocol_one_last]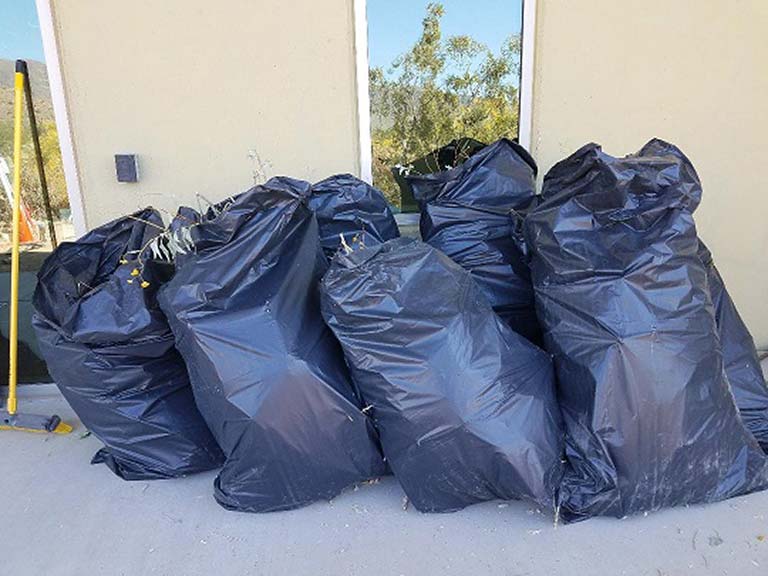 [/twocol_one_last]